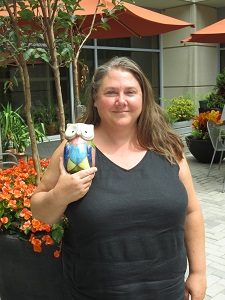 Kirsten O'Beirne, Registrar

What I do: The Registrar's Office coordinates all aspects of course planning, registration and grading. I oversee the work we do with faculty and departments to gather course information and grading. We work with students around registration, doing the set-up in BiONiC and answering student questions during registration.  One of the things I do in particular is work with students on transferring credits from other Colleges back to Bryn Mawr.  So if you are ever thinking of taking a summer course, please come to see me!
Favorite book or movie: I am a big Harry Potter fan (books and movies).
Dream vacation spot: I've never been to the Grand Canyon, and I would love to go there.
Favorite dessert: chocolate chip cookies
Best thing about Bryn Mawr: Bryn Mawr's campus!  It is beautiful!
Best thing about the Registrar's Office: I like technology, but I would never want to stare at a screen all day. In the Registrar's Office we use BiONiC to make things like registration more efficient so that we have time to work directly with student on other things.
BMC club/activity I'd like to join: The BMC Greens!
Tip for the first year at BMC: Ask questions!  You will hear about all sorts of things this summer and during Customs Week, but no one expects you to remember everything!  We are happy to answer questions.
What I like about working with new students: The excitement and enthusiasm that new students bring at the start of the semester is contagious.
Favorite thing about my job: I love Bryn Mawr! In the Registrar's Office we work with faculty, students, administrative staff and alums so you can really see the mission of the College in action.
Favorite spot on campus: My office – really, my office is awesome.  I also love the Taft Garden behind Canaday Library.
In my free time, I enjoy: Reading, and doing fun stuff with my daughter.
If I were an animal, I'd be: I'd probably be a cat.
Little known fact about me: I've been to every state on the east coast and the west coast of the US, but only one state in between.
My secret talent: I'm pretty good at trivia, as long as it isn't about music.
Nickname: Kir
On my summer to-do list is: Vacation, vacation and getting zucchini to grow in my garden – I have checked them all off!