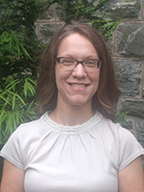 Mary Beth Horvath, Director of Student Activities & Orientation
Who's Whoooo at Bryn Mawr –
What I do: As the Director of Student Activities and Orientation I strive to create a vibrant student community on campus. I oversee the Activities Assistants who help me plan a variety of programs to help students develop healthy and meaningful relationships with others, learn about themselves, and develop leadership and life skills. Many of those activities also help students take a break from their studies when they need it. The Activities Assistants also help students learn about Philadelphia and all the great places you can explore and fun things you can do in the city. I work directly with a number of student led clubs and activities to help them plan engaging events for the campus community to enjoy. I'm the adviser to Traditions and work closely with the Traditions Mistresses to help create a sense of community on campus. I also oversee the Customs program, our new student orientation program, and work with the Customs committee and Customs People to help new students acclimate to the College. Find out more about the Customs program by visiting our website at brynmawr.edu/customs.
My majors in college: Music and Environmental Studies at Dickinson College
Favorite movie: Grease!
Favorite dessert: Strawberry Shortcake
Favorite spot on campus: Campus Center
BMC club/activity I'd like to join: WHRC, Social Committee, Film Series… I was involved in clubs like these at my undergraduate institution.
Tip for the first year at BMC: Be open to meeting new people, exploring new interests, learning about other cultures, getting involved, and ask for help if you need it! Everyone is here to help you succeed in whatever you choose to do. Also, explore Philadelphia! Philly is a city rich in culture, with world class museums and restaurants, theater, sporting events, and so much more.
What I like about working with new students: Their excitement, enthusiasm, and ambition!
Favorite thing about my job: Working with and getting to know students and planning events for the community.
In my free time, I enjoy: Running, crochet, reading, trying new restaurants, watching TV, spending time with my husband Bryan and cats Max and Sam.
My secret talent: I make awesome breads and jams and recently began making a variety of baked goods. I crochet stuffed animals; you can find some of my crocheted owls in various offices around campus.
Nickname: MB
On my summer to-do list: Plan a great Customs experience for the Class of 2020!